Contact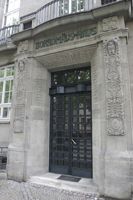 The Project responsibility was taken by the Hildegardis-Verein e.V..
If you have any questions don't hesitate to contact us.
Contact data:
Hildegardis-Verein e.V.
Geschäftsstelle
Wittelsbacherring 9
D-53115 Bonn
Tel. 0228 / 96 59 249
Fax 0228 / 96 95 226
post@hildegardis-verein.de
You can also call us:
Monday to thuresday 08:30 - 14:30
Friday 09:00 - 14:00
Otherwise just send us an E-Mail.
Public or media questions? That's great!
As the project advances, the archives of our German website will provide more and more press releases, interviews and profiles. They will initially not be available in English or other languages.
So if you are a non-German-speaking member of the media, governmental or non-governmental organization, association, advocacy group, educational institution or company and require information about the project "CompetenceTandems: Life included", please get in touch with our press & PR officer by phone, e-mail or snail mail:
Dr. Ursula Sautter
Head of communications and PR
Tel. 0049 / (0)228 / 90 87 15 30